Dear ten year old Amanda,
Hey girlie. Before we get down to the serious talk, you need to know one thing right now: that curly hair you've been praying for? It's coming in about four years. Do us both a favor and recognize it earlier than I did. Get yourself some frizz-ease, a diffuser, and a wide-tooth comb and you'll be good to go. Oh, and also, strangers are going to walk right up to you and touch your hair, just try not to think where their hands have been. And you'll hear, 'is that natural?' about a zillion times, just smile and give God the credit.
You know that very active imagination you have? Guard it and treasure it. Most of your friends will lose (or ignore, I'm not sure which) their imagination within the next two years or so. The stories you create, the adventures you experience, they are shaping who you will become, and let me tell you, being a dreamer is a lot of fun. And the fact that you're going to marry a super rational, total hunk of a guy means that all those big dreams will be well-balanced and thought-out. There's no way you're going to appreciate this fact right now, but believe me, in twenty years you're going to be really thankful.
In a few years you're going to experience a pretty big life event – and your dream of living on a farm will come true! But the move is going to be rough for you, leaving behind friends and family is never easy, especially during the tumultuous teenage years. Don't worry about crying those tears, it doesn't mean you're weak – it means you feel deeply. The friends you're going to say goodbye to, you'll stay in touch with them for years through old-fashioned letter writing, and then, thanks to an internet site called Facebook, you'll be able to stay in touch with them forever. And see what they eat for lunch every day, but really, that's a small sacrifice for staying in touch with life-long friends.
What's that? You want to know what the internet is?  The internet is 'a computer network consisting of a worldwide network of computer networks that use the TCP/IP network protocols to facilitate data transmission and exchange.' I just googled that, so the real answer is….in twenty years you can ask your husband and he'll be able to explain it to you.  *wink*
So you've been playing the violin for about a year now, and everyone says you're good at it. The thing is, you're going to put it away when you're 19 or 20 and never pick it up again. So I was wondering if you could do your future self a favor and just keep practicing, even when you're playing the same blasted songs over and over again. Also, don't file down your bridge so as to make fiddling easier. You're a violinist, not a fiddler.
Thank you, thank you, thank you for all that reading you do. Even when you stay up really late with a flashlight under the covers. (Side note: you're a natural night owl and Mom is going to realize that in a couple of years.) Your love of reading is never going to go away, and Anne of Green Gables and Sherlock Holmes will be continue to be two of your favorite books of all time. By the time you're in your twenties your copy of Anne of Green Gables will be falling apart, and you'll take great pride in that.
Your love for animals will never go away. Your dream of becoming a veterinarian isn't going to come true, but that's okay. You'll spend thirteen years working in veterinary medicine, and at the end of you'll have great memories, oodles of knowledge, and no school debt. It will take a while for you to come to peace with the fact that you aren't going to be a vet, that's okay. It is perfectly okay to grieve unmet dreams.
So there's this boy. You're going to meet him when you're fourteen. All I'm going to say is that he is not 'the one.' You'll save yourself (and your parents) a lot of heartache if you could just get that in your head right now. And the man you are going to marry – well, he's a man. At fourteen you're not going to even recognize the distinction, but you want a man, not a boy. And if my memory serves me correctly, our mom is going to say something to that effect over and over and over again. She's right.
So…big surprise! You're going to be a pastor's wife. And believe me, you do not fit the mold of the quiet, submissive, piano playing pastor's wife. Fortunately for you your husband comes from a family with strong women, so he's been well-prepared for you. But you might want to bug your parents a little bit more about the piano lessons, they would come in handy when you're twenty-three. On the other hand, the voice lessons definitely pay off – you'll get a college scholarship and travel every weekend for two years singing your little heart out. Don't ever stop singing, okay?
Ten year old Amanda, I want you to know this: life is good, but life is also hard. You're going to face disappointments and heartache. Your faith will be shaken, your heart will be bruised. But God is faithful, and you will be reminded of that time and again as life turns out how you least expect it. You will learn to be dependent on Him, and believe me, He is rock solid and can handle your wrestling and deeply rooted need for Him.
In twenty years you will look back on your life and realize you have very few regrets. That is the grace of God, really, and the result hundreds of prayers by dozens of people who have been praying for you since you were a wee babe. You do owe them a debt of gratitude. The regrets you do have are superficial, nothing that would drastically change who you're going to become.
And one last thing, before we go. Go easy on your mom in about five years. Her hormones will be raging (for a different reason) at the exact same time yours are raging because of puberty. What no one is going to tell you is that there is a battle of hormones being waged, and it's going to be brutal. Teenage angst isn't becoming on anyone, and your mom is going to show you a lot more grace than you'll realize. So if you could tone it down a bit, stifle some of the drama, and take a Midol, you both will thank me.
Keep dreaming, keep singing, and keep the faith.
Love,
Thirty-one year old Amanda
I'm writing for Compassion International  as we strive to get 3,160 children across the globe the sponsors they so desperately need.  Click HERE to view information on children awaiting sponsors.  You can literally change someone's life!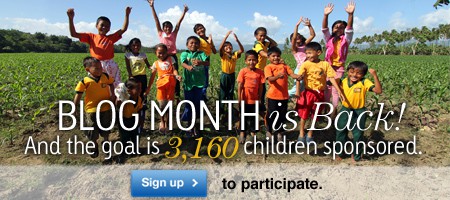 Are you ready to be an inspiration? (To find out the purpose of the Desire to Inspire community, please read this post.)
Please visit the others who link up and leave kind, encouraging words for them. This is about encouraging, inspiring, and building up one another.
If you tweet about linking up, please use the hashtag #desiretoinspire so we can find each other.
Link up your own quality, read-worthy posts.
Focus on how you can be an inspiration, not what inspires you.
You do not have to follow ARD, but of course I'd love it if you would.
Link up your specific post, not your blog's homepage.
Please do not link up giveaways, blog/social media hops, or shops. Unfortunately this request has not been followed recently, and I'm afraid I'm going to have to start deleting links that do not meet the guidelines.
Please link back to A Royal Daughter in your post (using the button below, or a text link back) or add this linky party to your linky party list.
If you would like to join the Desire to Inspire Facebook community or group Pinterest board, please e-mail me: royaldaughterdesigns(at)yahoo(dot)com.
<div align="center"><a href="http://www.aroyaldaughter.com/category/desire-to-inspire/" title="A Royal Daughter"><img src="http://i1227.photobucket.com/albums/ee423/RoyalDaughterDesigns/D2IButton_zps98d3a085.png" alt="A Royal Daughter" style="border:none;" /></a></div>